Problem
Each year, thousands of cases are delayed, canceled, or begin with sub-optimal equipment because of poor communication and coordination. This doesn't just frustrate healthcare workers and add unnecessary cost, it negatively affects patient care.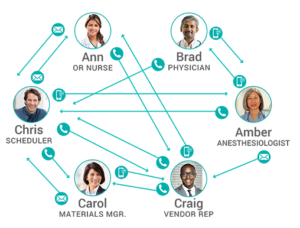 Solution
Casetabs offers collaborative scheduling which includes one central hub for all scheduling and case coordination with staff, surgeons, anesthesia, vendors, outside offices, and patients.
Casetabs offers fully customizable digital surgery boards that allow staff to know exactly what's going on throughout the center leading to better patient care and seamless patient flow.
Casetabs offers patient alerts and communication via text messages including automated pre-op reminders, post-op check-ins, and more.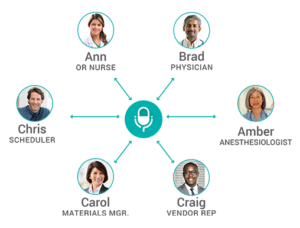 Increase Staff Efficiency
Real-time visibility to add-on, changed, and canceled cases enables staff to respond quicker and significantly lessen the number of communication points via text, email, phone, and word of mouth for any changes to those cases. In other words, no more "telephone game."
Improve Patient Satisfaction
Casetabs creates a central hub for sharing case information and updates between surgeons, anesthesiologists, clinical staff, office staff and vendor reps. The app reduces the likelihood of missing or inaccurate information, errors or an overall communication breakdown.
Better Use of Time
Access to case updates right when they happen, makes day of tactical communication easier by improving inter-department connectivity so that all departments can perform their roles more efficiently. The Casetabs Digital surgery boards unite departments to increase collaboration, emphasize team work, and shared decision making.
Client Testimonials
The amount of frustration that has been removed from my day is insurmountable, and I can spend more of my energy focused on my patients and their safety. Working without Casetabs is not an option anymore. –Raymond Raven, MD Orthopaedic Surgeon–
Casetabs gets everyone on the same page including our clinical staff, front office, reps and physician offices. If you have access to Casetabs, there is no reason not to know exactly what's going on at our center. –Tommy Valashinas, Surgery Center of South Bay–
Casetabs makes communication better for our physician offices, anesthesia groups, center staff and sales reps. It is extremely valuable, especially by reducing the number of phone calls, faxes, text messages and emails. Everyone on the case team is automatically updated. –CindyIsaacs, Administrator, Crown Point Surgery Center–