With ongoing patient and population data analysis generating effective insights and automating prioritization and management of remote patient populations, the DDC sets a new standard in digital diabetes care.
Seamlessly integrating with EMR systems, GlucoMe's DDC collects accurate, up-to-date patient data from
GlucoMe's Mobile App. Leveraging its advanced algorithms, the DCC transforms this data into unrivaled big data insights which are then intuitively presented in digestible patient and population views for rapid clinical decision-making.
By enabling timely digital or face-to-face interventions, automating notifications and streamlining patient population management, healthcare providers, payers and insurers can now better prioritize and manage care, as well as save time and reduce costs.
Problem
Diabetes is a growing pandemic with an increasing prevalence is the U.S. Moreover, it is a disease that requires ongoing daily measurement, data collection, and management. It is well known that the number of patients requiring the attention of medical professionals is exceeding the capacity of even the most efficient clinics to provide ongoing personal treatment.
While the number of patients is on the rise, resources to provide treatment are limited (physicians, nurses, dietitians, etc.). The frequency and length of in-office visits are reduced, challenging the clinicians' capacity to be proactive, review the patient's history, assess their condition and make effective and frequent treatment recommendations; while interaction with patients between visits, to identify events that require attention, can fall short.
As clinics are being stretched to their limits, patient outcomes can be affected. Poor diabetes management can lead to short- and long-term complications, impacting lives and increasing healthcare costs.
Chronic disease management is a service that many healthcare organizations try to adopt, and a smart robust infrastructure is required to do so successfully. In order to manage the growing population, there is a need for a proactive and efficient remote care model that constantly collects and analyzes data, precludes data overload for the clinic and generates actionable insights.
Solution
GlucoMe provides a true end-to-end digital diabetes management solution, integrating individual patient and population management to efficiently increase engagement and compliance.
GlucoMe's cloud-based Digital Diabetes Clinic and Control Tower enable care providers to rapidly prioritize and deliver effective remote care.
GlucoMe's engaging patient mobile app supports self-management for better adherence and confidence.
GlucoMe implementation is quick and simple and helps organizations scale up while delivering quality care.
GlucoMe Integration
In the clinic: The GlucoMe Digital Diabetes Clinic platform is easily integrated with EHR/EMR systems or can be used independently.
At home: The GlucoMe mobile app syncs data from patients' third-party blood glucose meters with the GlucoMe Digital Diabetes Clinic.
End-to-End Diabetes Management – Improving Patient Outcomes and Reducing Healthcare Costs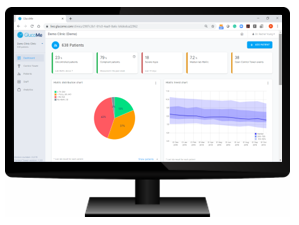 Advantages of the Digital Diabetes Clinic
The secure cloud-based GlucoMe Digital Diabetes Clinic (DDC) delivers a new level of patient communication and treatment support.
Advanced algorithms accurately analyze patient data, displaying information and insights for remote patient monitoring and population management.
The DDC platform allows clinic staff to adjust treatment plans and send professional recommendations directly to patients.
Enables clinics to handle larger patient populations without compromising personalized patient care every day.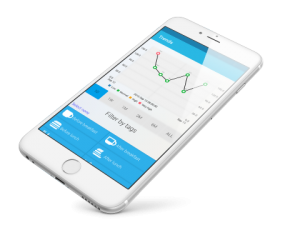 More Personalized Treatment for More Patients – The GlucoMe App
The GlucoMe mobile app is your patient's personalized diabetes management companion.
The app collects clinical information automatically and securely transmits it in real time for DDC cloud-based analysis.
Personalized and smart insights, along with guidance from medical professionals, ensure effective treatment and reinforce healthy self-care behavior.