LeadingReach is a web-based platform designed to improve communication in healthcare. Either between providers and their patients in the Patient Engagement lifecycle, or between a group of providers by managing the Transition-of-Care. LeadingReach is used in clinics and hospitals to drive operational efficiency, improve the patient experience and ultimately reduce overall cost by improving outcomes and reducing readmissions.
Problem
There are over 10,000,000,000 faxes every year in healthcare and fewer than 50% of faxed referrals ever convert to an appointment, leading to sicker patients and increased costs. Additionally the lack of care-continuity leads to many patients being lost in the shuffle and their primary care providers are left wondering if their patients ever got the care they felt was necessary.
Solution
LeadingReach is a web-based platform designed to provide Primary Care Physicians and General Dentists with a digital referral solution that enables them to more accurately refer and track their patients. LeadingReach also provides a CRM for Specialists and Health Systems to optimize Patient Pipeline Management and critical workflows to eliminate referral leakage and improve accountability, communication and care coordination.
INBOUND AND OUTBOUND REFERRAL DASHBOARDS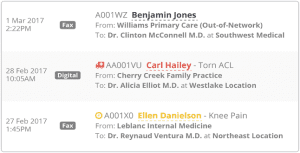 Real-Time Dashboard Views
Manage all inbound and outbound referrals in a single dashboard with all relevant information at your fingertips.
Search and manage referrals in seconds and pull data reports on demand.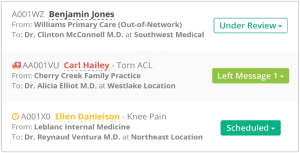 Customize Clinical Workflow and Process
Easily customize clinical workflows with Referral Status to ensure patients are moving through the pipeline.
Help identify bottlenecks and pull Referral to Appointment Ratio reports with functional workflow tools.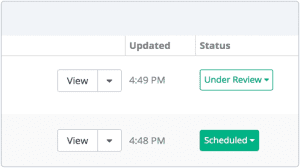 Advanced Filtering with Referral Tags
Create custom workflow checklists and dashboard views with Referral Tags and advance filtering options.
Allow staff to save valuable time by accessing only the information they need with a couple clicks.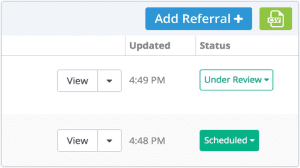 Log Inbound Referrals and Pull Data Reports
Add fax and paper based referrals in seconds for easy patient pipeline management.
Easy access to data dashboard and reports allows for effective management of your business.
Secure Communication with Referring Offices
Send and receive HIPAA secure messages and file attachments with referring offices.
Provide status updates and streamline communication with offices and patients during the referral process.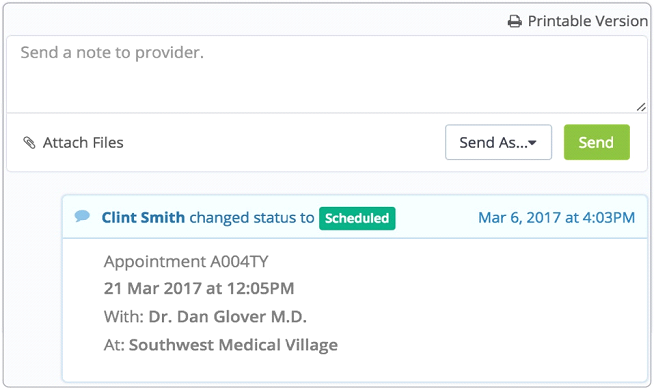 BENEFITS OF LEADINGREACH
A BETTER PATIENT EXPERIENCE – Deliver the right information at the right time to patients
OPERATIONAL EFFICIENCY – Improve Referral to Appointment Ratio (RTA) – get patients to show up on time and ready for treatment
WORKFLOW OPTIMIZATION – Streamline the scheduling and communication process with patients
IMPROVED COORDINATION OF CARE – Strengthen referral relationships and improve coordination of care
DATA ANALYTICS – Real-time, daily, weekly, monthly referral metrics
PERFORMANCE MEASUREMENT – Track referral trends and drive corporate initiatives
GROWTH – Increase patient acquisition rates and maximize referral revenue