"Nearly every person will experience a diagnostic error in their lifetime"
-Institute of Medicine-
With more visits moving to a virtual setting, clinicians do not have access to the same data and resources they had in the past. In the future, there will be a greater need for clinicians to guard against bias and find new and innovative ways to engage and educate their patients.
VisualDx is a web based clinical decision support system designed to enhance diagnostic accuracy. They have a 20-year history of both empowering clinical decision-making and supporting the public health mission. Whether at the clinic, in the emergency department, or via telemedicine our solutions improve medical decisions through augmented thinking and timely visualization.
Visual Differential Diagnosis Builder
Improve accuracy and reduce diagnostic errors with our top image library, helping you choose the right diagnosis even in complex presentations

Outlining Therapeutic Options
Improve patient outcomes by choosing the best treatment every time with VisualDX's suggestions

Worlds Best Medical Image Library
See it all with VisualDX's image library, collected over decades to show variations in disease so that you can always make the right call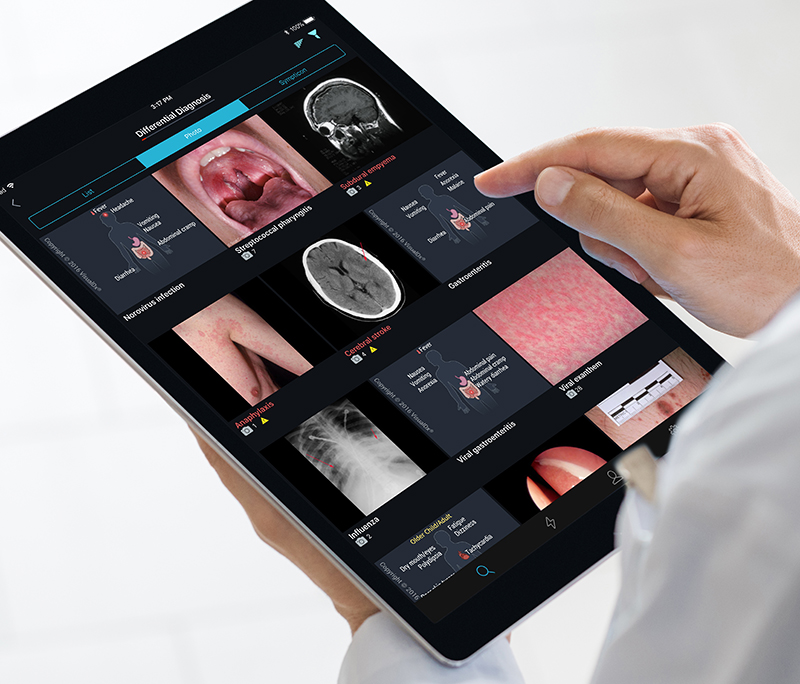 Visual Differential Diagnosis Builder
Sometimes differentiating between two possible diagnoses can be difficult. In your effort to avoid costly diagnostic errors, it can be helpful to have a second opinion right at your fingertips. VisualDX provides images showing numerous variations of disease, allowing you to solve even the most complex of patient presentations.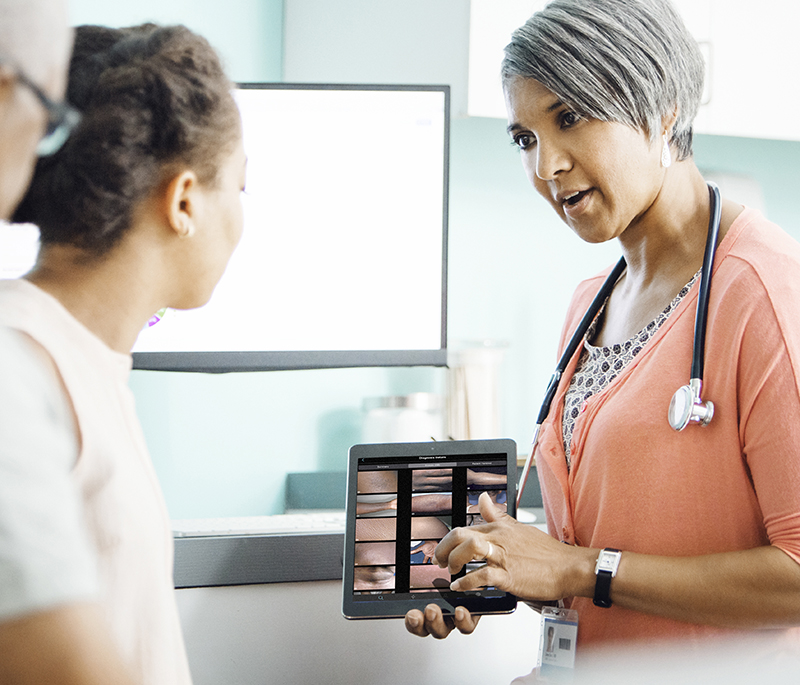 Outlining Therapeutic Options
Once you've chosen the correct diagnosis, your next challenge is to choose the best treatment. With VisualDX, the information necessary to determine the best course of treatment is at your fingertips. Avoid unnecessary procedures and prescriptions by choosing the right treatment the first time.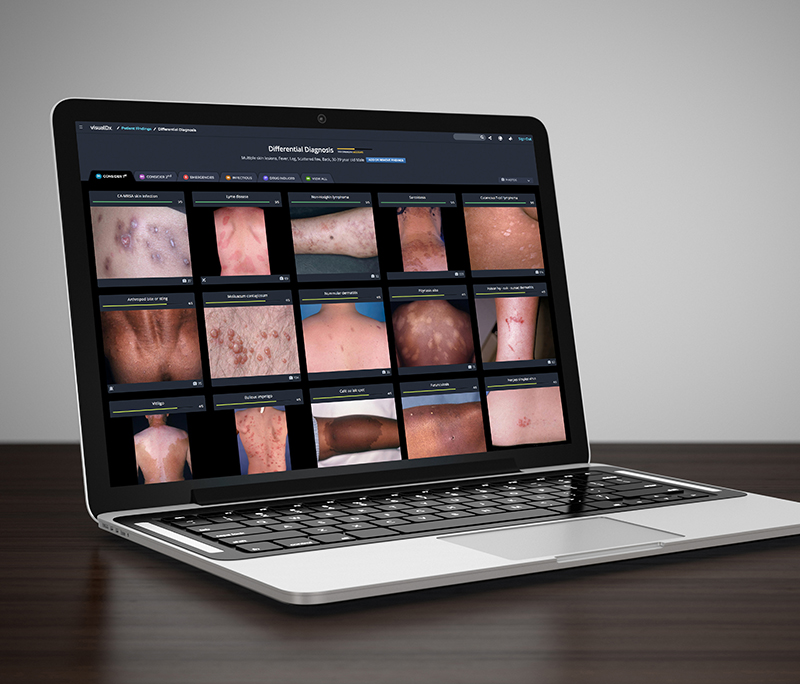 Worlds Best Medical Image Library
Not all diseases look exactly the same all the time. This is why it's necessary to see the variety of presentations, and that's why VisualDX has thoughtfully gathered medical images over a span of 20 years and curated them to aid in diagnostic decision making. Our image library brings valuable, in-depth images right to your fingertips so you have all the information you need, just when you need it.
Client Testimonials
Dr. Michel Arnould, Family Medicine Physician VisualDx is a useful and powerful tool – a must have software for all general practitioners.
James Shoemaker, MD, Emergency Medicine Physician Unbelievably useful app that is only getting better and more invaluable. Essential tool in your toolbox,
Roman Bronfenbrener, MD, Dermatologist I love VisualDx for the speed with which it helps me confirm a diagnosis
Matthew Merriman, MD, Emergency Medicine Physician The differentials and clinical information available in VisualDx are intuitive to use, high impact, and genuinely benefit patient care. I feel better having it tucked in my pocket on each clinical shift!"
Eric Ingerowski, MD, Pediatrician VisualDx helps bring excitement back to medicine.
Edie Hamilton, PA-C, CCRC, Physician Assistant I use VisualDx because it increases my knowledge and confidence to ensure I am doing my best as a health care provider. Which means I am able to provide better care for my patients.
Rachel Diamond, MD, Pediatrician. I really like VisualDx because its very fast, its accurate, and its user friendly,
Amber Bard, Medical Student Thanks to my use of VisualDx, my niece was treated and avoided a fate of corneal scarring or lifelong blindness,
Jennifer Pugh, MSN, APRN, FNP-C, Nurse Practitioner We recognize the value of VisualDx not just as a joint provider, but how it can help us in greater ways improve patient safety with our policyholders," Geri Amori, PhD, VP, Academic Affairs, Coverys "VisualDx has certainly made my time in clinical practice worthwhile. Convenience is the most valuable option VisualDx offers to me.