With Yosi Health, 85% of patients are fully registered before they arrive—and providers see a 45% reduction in patient no-shows, 20% increase in patient collection rate and 100% satisfaction.
Creating the waiting room of the future.
Yosi is a pre-arrival focused patient intake and registration system that eliminates wait times, improves the patient experience and increases financial results for large health systems and busy care centers.
Waiting rooms across the country are inundated with various administrative tasks that take up a lot of time and create poor patient experience and staff workflows.
While we don't like to wait for most of the things in our lives, patients and staff spend a lot of time onboarding patients before they see the clinical staff or providers.
Imagine a waiting room – that is simple, efficient and effective.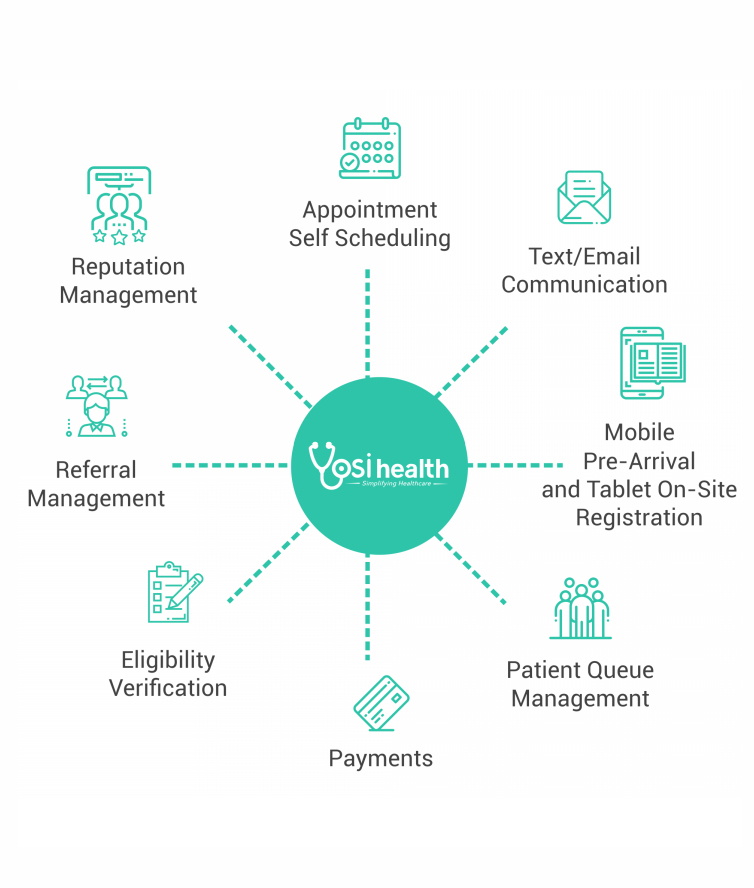 Care Centers Like Yours Are:
Reducing no-show rates by: 45%
Reducing phone calls by: 70%
Reducing paperwork by: 80%
Reducing claims denials by: 15%
Increasing collection rates by: 20%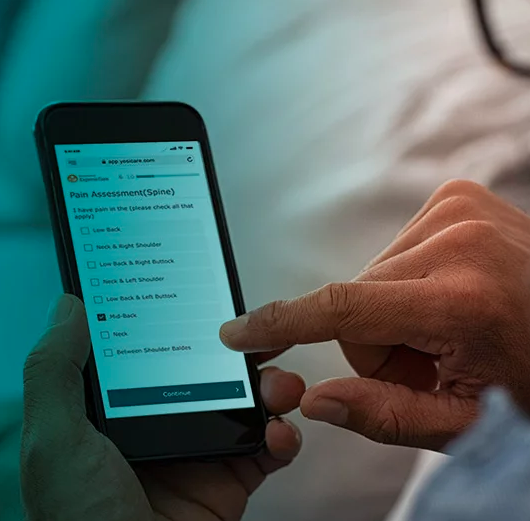 The Best Intake Solution on the Market
Yosi eliminates waiting room time, increases patient satisfaction, and boosts practice revenues by leveraging patient behavior with smartphones. Yosi is a smartphone enabled, pre-arrival focused patient registration and payment solution.
Say Goodbye to Kiosks, Tablets and Clipboards clogging your waiting room!
How it Works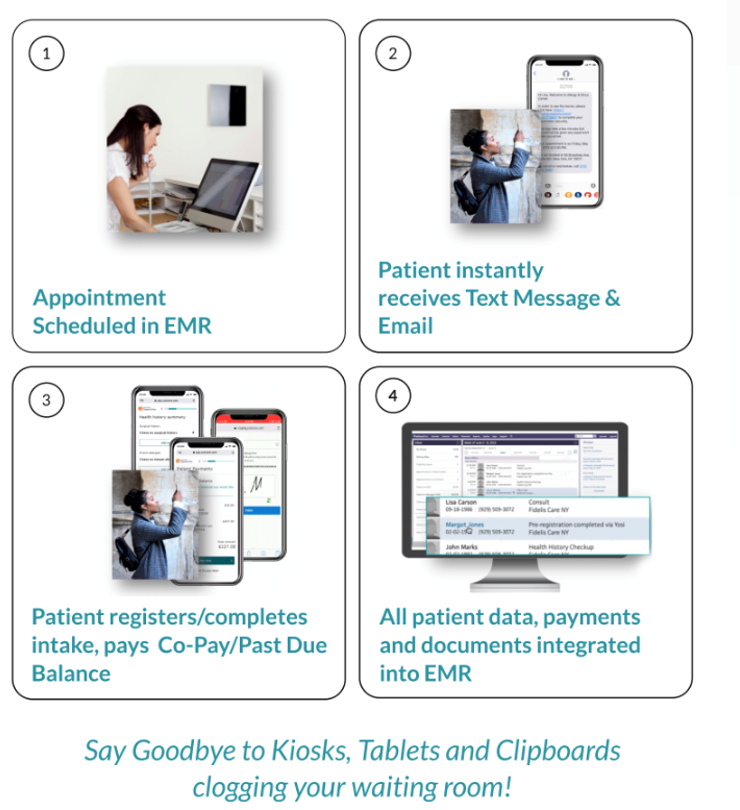 Make it easy for patients to schedule an appointment in real time, integrated with your EMR. 65% patients are looking for ways to self-schedule.
Say Goodbye to Kiosks, Tablets and Clipboards clogging your waiting room!
Automate patient intake and registration with pre-arrival and best in class iPad that patients love. Allow patients to pre-register before they arrive.
Say Goodbye to credit card swipers, fax machines, scanners and printers!
Quickly & easily collect patient side co-pays and outstanding balances before or during check-in. Create great experience for patients. Collect more.
Say Goodbye to poor online reviews!
Create better patient experience with Yosi. Then collect patient reviews using Yosi. Enhance your care center reputation.
Say Goodbye to faxing DME orders and supplies!
Ordering DME supplies for your patients does not have to be difficult – Use our ordering system that generates the billing codes and the appropriate documents.
Why do Yosi customers rate us highly?
Real time scheduling – Patients can schedule appointments in real-time based on available appointment slots.
Appointment conformation – Fully white labeled, bi-directional text message that allows patients to engage with their care centers
No app download – Yosi makes it easy for patients to register at home – no apps to download, no portal registration – a simple web interface.
Card Scan – Patients scan their ID, Insurance cards instead of your FD staff. These card images update the Patient's Quickview section.
E-Signature – All your consent forms, disclosure, privacy notices are signed by patients electronically. No need for a separate e-sign pad. Custom intake workflow – Yosi offers multiple workflow, forms, questions based on various factors including but not limited to appointment types, specialty, age, gender, scheduling provider etc.
Document Management services – With Yosi, you receive a copy of your OWN forms updated directly into the admin/clinical section with patient's signature.
Payment collection – Collect co-pays, outstanding balance and CC on file agreements using Yosi's payment services either before the patients visit or during the visit.
Review of Systems – Collect a detailed ROS and clinical data from patients during registration. This saves significant time for your clinical and MA staff.
Screening Questionnaires – M-CHAT, Vanderbilt, PHQ-9, Epstein and other screening questionnaires are readily available to choose. More importantly, Yosi auto-scores these questionnaires and the appropriate template in Athena is updated.
White labeled & Branding – Yosi comes fully white-labeled and branded for your clinic with NO pharma marketing ads like other solutions.