97% of patients are frustrated by endless wait times: Eliminate them with OnTime Care
Patients hate waiting, and that lost time hurts your practice's efficiency, throughput, and revenue. OnTime Care is the digital solution that helps eliminate the wait to improve the patient experience and your practice's bottom line.
Powered by two online portals ­– one for patients and one for practitioners – OnTime Care delivers sophisticated tools for intelligent scheduling, effortless communication for patient engagement, and more. The platform also seamlessly integrates with, and supplements, your EHR system to automate administrative tasks before, during, and after each appointment so your team can focus on providing patients what they want most: Quality healthcare.
More billable hours. Less lost time. A better patient experience.
Lower Wait Times
OnTime Care automates workflows to improve efficiencies to lower or eliminate patient wait times.
Intelligent Scheduling
Patients can book appointments 24/7 from any device, anywhere online, including social media and search results.
Increase Revenue
Expand your practice and see 22% more patients while spending more quality time with each one.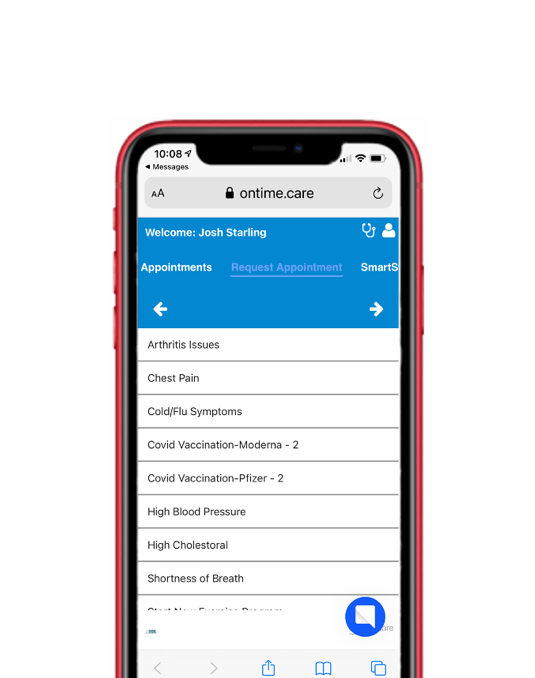 Empower patients to take charge of scheduling and more
With OnTime Care's patient mini-portal, patients can view appointments, book new visits, reschedule, and even accept standby appointments all from their smartphone, tablet, or computer (no app required). The patient mini-portal's messaging tools facilitate quick, easy communications. It's standard with all OnTime Care versions. And OnTime AI Chat in our Gold or Platinum version lets patients self-serve even more and get answers they need– reducing unnecessary office calls.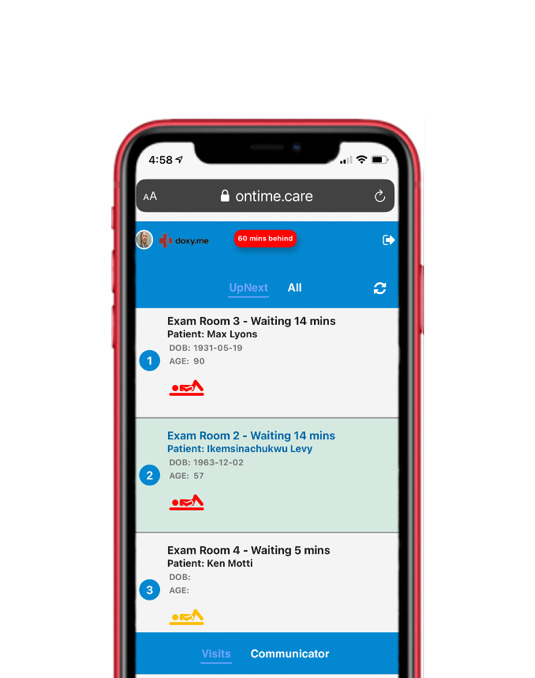 Get more done with our practitioner mini-portal
Designed to supplement your EHR and enhance your practice's efficiencies, the practitioner mini-portal is included with all versions of OnTime Care. This powerful tool directs doctors who to see and where to go with real-time updates right to their device. The portal's communicator also streamlines appointment follow-ups, enabling the doctor to easily send results and more via customizable texts, emails, or automated calls.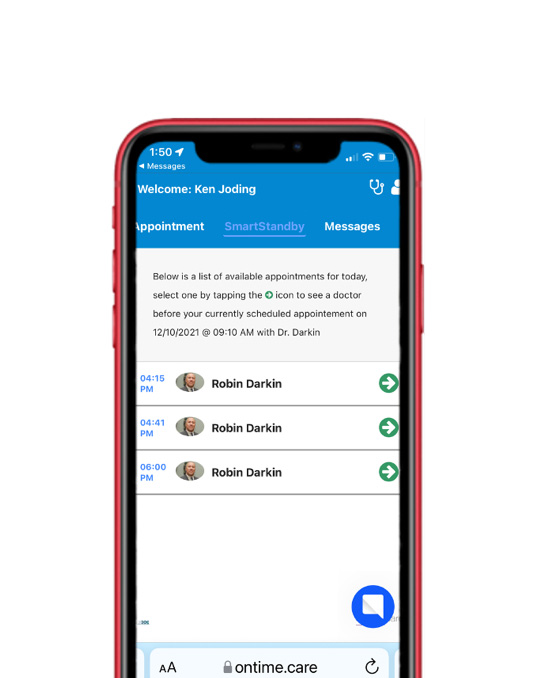 Eliminate the need to overbook with SmartStandby®
SmartStandby® keeps your practice schedule full by automatically filling cancellations – and even anticipating and pre-filling no-shows – from our self-serve patient standby list. This tool sends each patient up to four appointment confirmation texts or calls; if they cancel, reschedule, or don't respond, it automatically fills the appointment with a standby. Patients can easily join this standby list when booking – they're notified with an automated message when an earlier slot becomes available.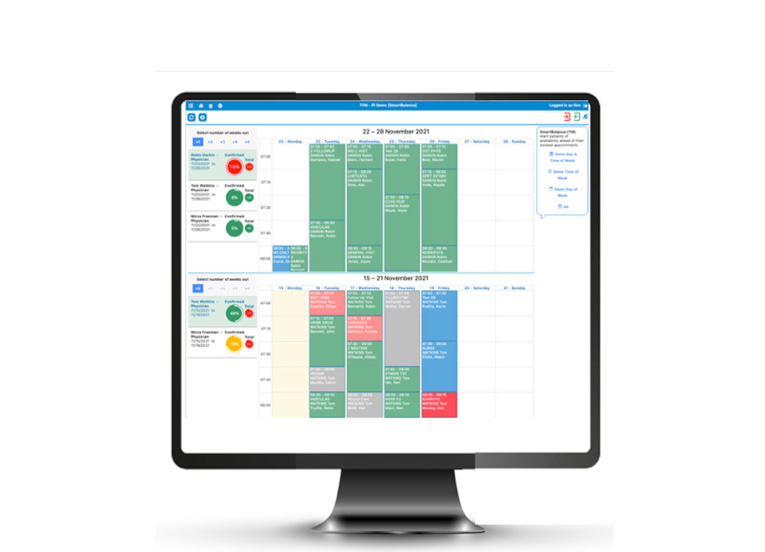 Balance workloads between practitioners and locations
Some doctors and locations are busier than others; use SmartBalance to share patient caseload evenly. With a simple, one-time set-up, you identify and match treatments with doctors and locations. SmartBalance handles the rest, automatically balancing patients across practitioners and offices. As patients arrive, they're automatically informed of any waits and can opt to see a different doctor if one is available sooner.