Six in ten Americans live with a chronic condition

Cardiovascular risk factors in the US are projected to rise sharply from 2025 – 2060, with the largest increase in diabetes (a 39.3% increase to 55 million people)
The Remote Patient Monitoring and connected healthcare market is growing faster than ever. Healthcare now exists across the continuum from home to clinic and providers need technology that provides efficient, comprehensive, beautiful experiences within their electronic health records (EHR) to support this hybrid model. However, currently the major weakness of this market is the disconnect between RPM, EHRs, and physician workflows.
Generally, doctors can prescribe devices like continuous glucose monitors (CGMs) or blood pressure monitors from their EHR system, but bringing the resulting data full circle back into the clinical workflow to drive improvements in patient outcomes is not happening. A care team that is engaging patients with chronic diseases is largely disconnected from the PCP or endocrinologist or cardiologist who cares for that patient. We still ask patients to carry data between providers or require clinicians to log into a separate software system to access the data.
As a SMART-on-FHIR platform, Rimidi brings data from an ecosystem of devices as well as patient survey data into the clinical workflow of the EHR to be viewed in the context of other relevant patient data like diagnoses, labs and medications. And every care team member with access to the EHR chart can access Rimidi. Recognizing that the goal is not just to have more data, but to improve outcomes based on that data, Rimidi's Clinical Decision Support tools drive the insights and actions that result in impact to clinical and operational goals. 
Clinical Workflow Optimization
As a SMART-on-FHIR Clinical Management platform, Rimidi works within the existing EHR workflow
Risk Stratification and Reporting
Based on aggregated patient-generated data and relevant clinical data, Rimidi provides a risk stratification view to clinicians, identifying patients who have gaps in care or are at the greatest risk for a worsening condition or complications
Remote Patient Monitoring
Rimidi enables clinicians to remotely monitor their patients' blood pressure, blood-glucose levels, weight, pulse oximetry and more, and virtually send encouragement or treatment adjustments when necessary
Patient Reported Outcomes
Survé by Rimidi delivers surveys and questionnaires directly to patients on their phone or computer in real time or based off an event. Patient responses are visible within the workflow and can be incorporated into clinical notes
Chronic Disease Management
The Rimidi platform has specific modules for Type 2 Diabetes, Hypertension and other Cardiovascular Disease, Heart Failure, Nonalcoholic Fatty Liver Disease, and Obesity
Clinical Decision Support
Rimidi's configurable CDS solution supports RPM alerting, guideline adherence, referral management, clinical trial recruitment, and more

Built for Clinical Workflow Optimization
Rimidi is the most advanced and comprehensive SMART on FHIR platform on the market. Built around the original vision of interoperability, workflow optimization, and clinical decision support, the platform is integrated to leading EHRs as a SMART on FHIR application, as well as a variety of connected medical devices to facilitate streamlined data exchange. Rimidi's technology is flexible enough to support each client's existing protocols and clinical priorities.

Enables Risk Stratification and Reporting
The Rimidi platform allows each client to configure alerts, risk scores, and triage status to support their specific protocols, care team structure, and clinical priorities. Rimidi provides visibility of outcomes at the aggregate population level, in various patient registries, and detailed individual patient views.

Supports Remote Patient Monitoring for Population Health Management
The Rimidi platform is integrated with a variety of cellular or Bluetooth connected devices such as glucometers, CGMs, blood pressure cuffs, pulse oximeters, and scales, allowing patients to seamlessly share data with their care team. Rimidi combines patient-generated data with relevant clinical data from the EHR into problem-oriented modules to support multiple clinical use cases including Type 2 Diabetes, Heart Failure, Nonalcoholic Fatty Liver Disease, Hypertension and other Cardiovascular Diseases, Obesity, and Epidemic Management.

Incorporates Virtual Collection of Patient Reported Outcomes
The Rimidi platform includes a PROs engine to send patient surveys via text message or email to virtually collect and display responses within the existing workflow. Patients receive surveys based on upcoming appointments, following treatment changes, or other configurable rules. The PROs tool is integrated to existing disease views, but can operate stand-alone to support additional use-cases.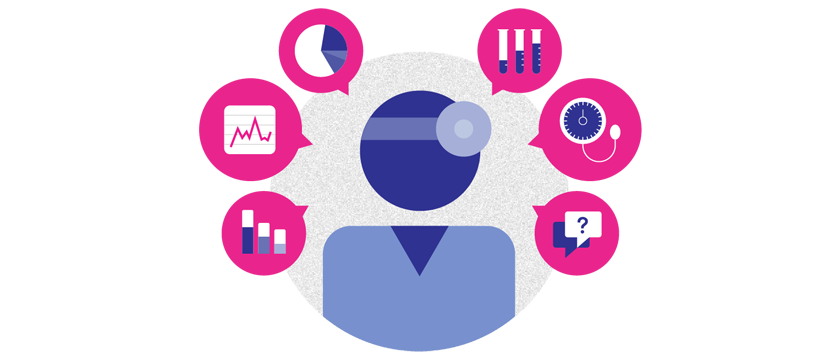 Connects Data to Action with Clinical Decision Support
Configurable clinical decision support cards bring practice guidelines to life at the point of care in the context of each individual patient. With live implementations of the Clinical Decision Support (CDS) Hooks standard, the CDS Cards provide RPM alerting, gaps in care notifications, laboratory ordering and suggested prescribing actions within the workflow.