1 in 5 claims denied by insurers should have been paid
Billers today face a medical reimbursement system too complex for humans to handle alone. Insurers take advantage of the situation by frequently changing rules and documentation requirements to increase denials and avoid payment. The result? Practices are reimbursed less than they're entitled to collect. Most find themselves fighting an uphill battle, using outdated tools amid rising service volumes. It's getting harder just to keep up.
Who's watching over your RCM operations?
Only the biggest hospital networks have the resources to surveil their RCM operations 24×7. They employ highly paid consultants and use custom-built software to ensure they're properly reimbursed. Everyone else fights for every dollar in an effort to remain solvent.
We're here to change that.
RevOps Health builds powerful software solutions that give healthcare providers the tools to properly diagnose their revenue cycle, at a price they can afford. We're an MRI machine for RCM operations.
How do we do it? Through a platform we call RevOS.

Data Acquisition
RevOS gathers revenue cycle data from ALL existing systems. We do this nightly – to give you the most up-to-date actionable information every day

Data Blending
Widespread data errors between systems makes it impossible to know when your practice payment data is correct. RevOS cleans and blends clinical, practice and clearinghouse data to refine and enrich them into a single source of truth that reflects your practice's real-world revenue operations

OpsRadar
OpsRadar gives you complete, real-time visibility into your practice's revenue operations. Search and filter payments records, browse through practice-level KPIs and trends, all the way down to individual claims and remits. Finding opportunities for improved payment and better financial health has never been easier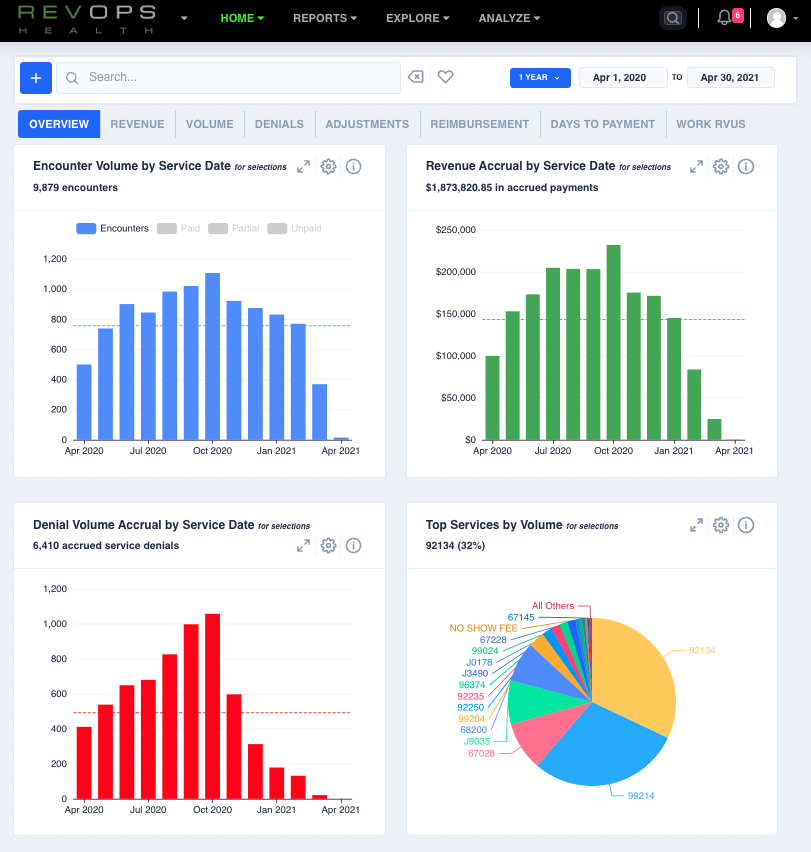 Make sure payers are meeting their obligations
By aggregating data across multiple systems into a single source of truth, you can quickly identify if payers are meeting their contracted rates. OpsRadar flexibility allows a landscape view across the practice with search level drill down to a payer, provider, procedure or custom combination of search terms to stay on top of your reimbursement.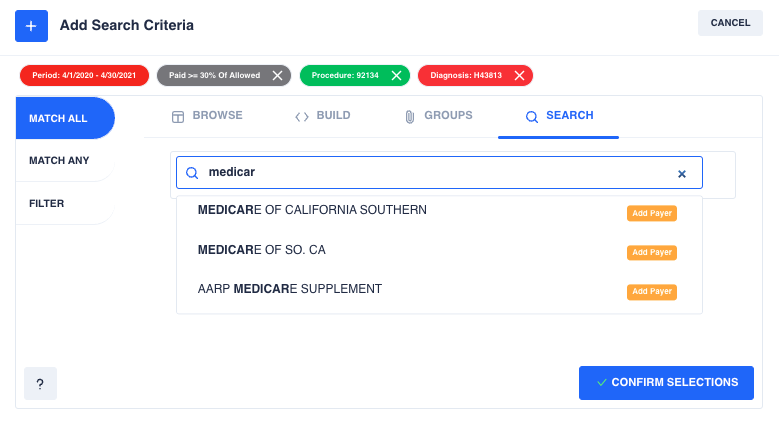 Quickly find the information you need
OpsRadar gives you the flexibility to see what you want, when you want it. Our Google-style, user-defined search engine gives you instant results. Search across patients, providers, payers, procedures, diagnosis codes, and more.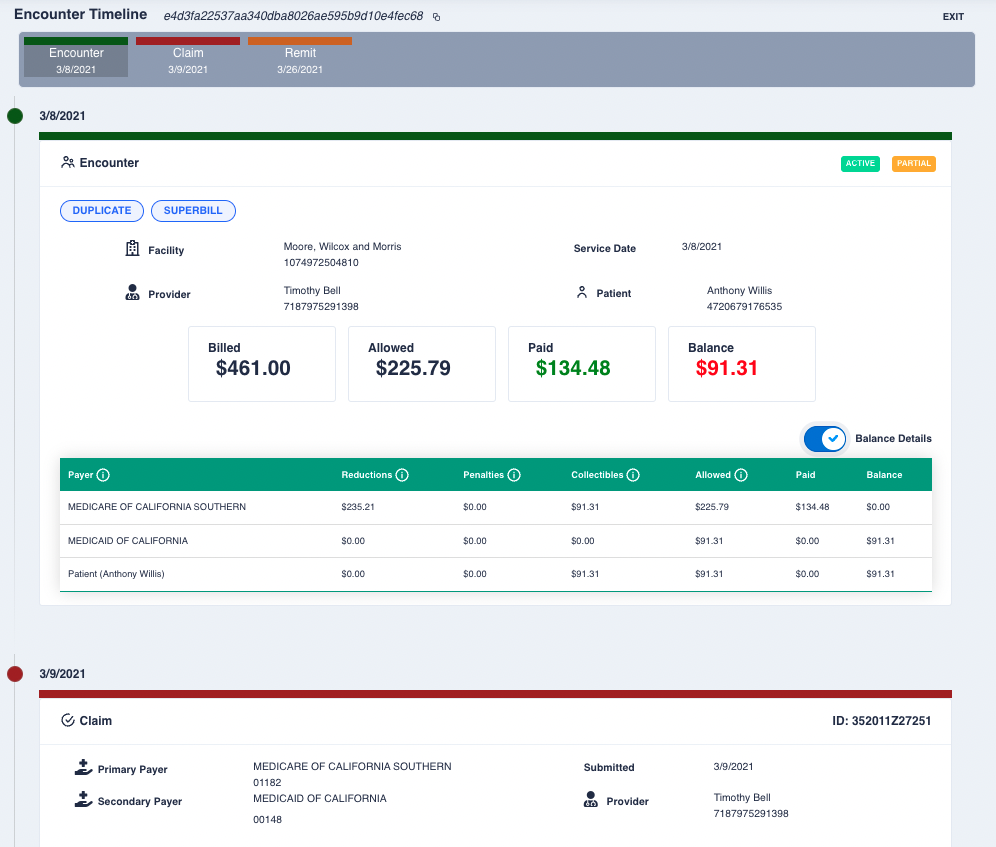 Easily access claim level detail
Move seamlessly from dashboards to individual claims and EOBS to see the lifecycle of an encounter, from visit to remittance.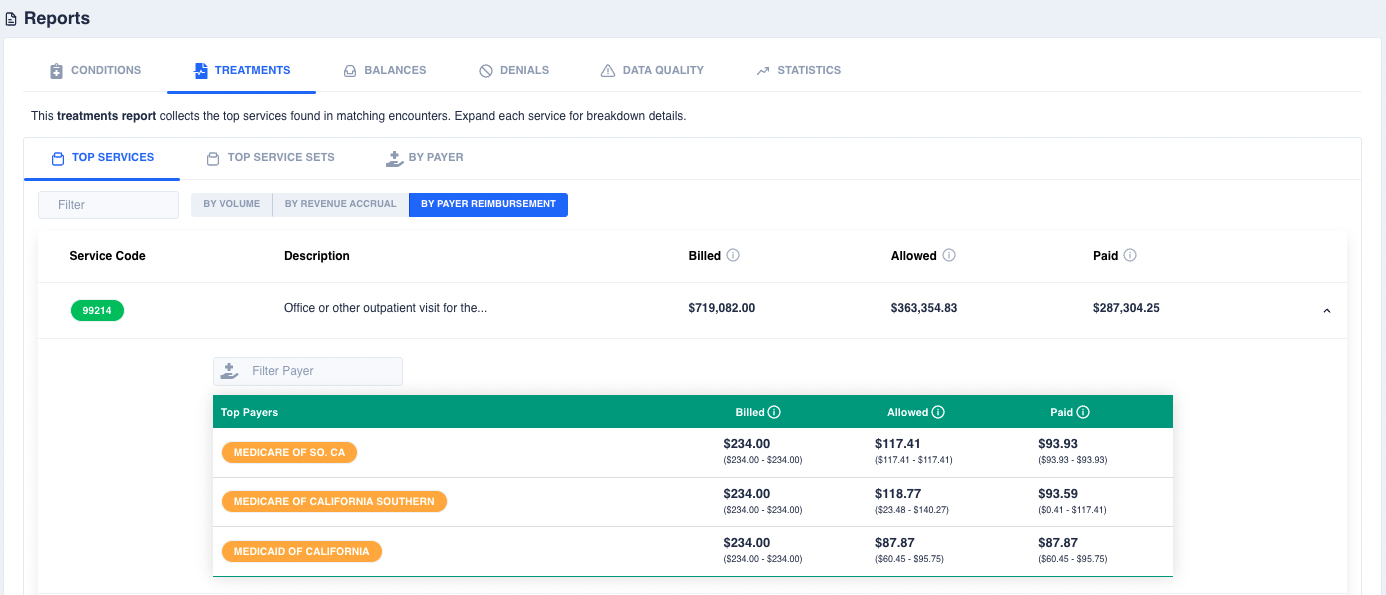 See what you're actually getting paid (in real-time)
RevOS links all the data in your practice – from scheduled visits to EOBs – so we can track reimbursements from a variety of perspectives. See how different payers affect reimbursements patterns for individual services. Or how payment changes according to services that travel together. Stop guessing how much you are (or should) be making.